I still haven't come up with much more in the way of plot ideas for
NaNoWriMo
next month (*whistles* Here, plot plot plot...) but I have figured out who my other main character will be: Blythe Bladedancer. Blythe is a blade-mage (title subject to change when I think of something better than "blade-mage") and he can actually say that as a kid he ran away to join the circus; he has spent several years touring with a carnival in his quest for fame. The surname is accurate as he dances and spins the blades both as a performance and to work magic. Blythe looks something like an assassin or ninja, but that's just the dramatics of his stage persona.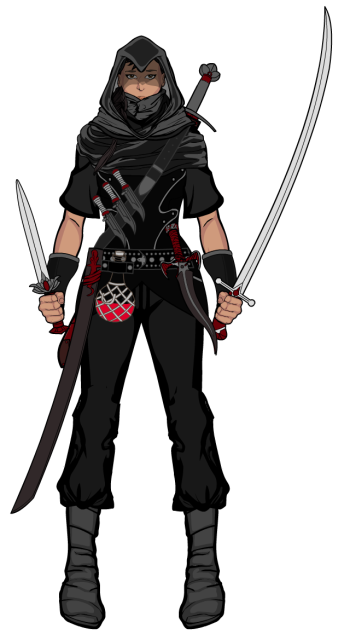 ...Or should I say "her persona". I really wish I'd been able to get that avatar to look more androgynous because Blythe has spent most of her life pretending to be male in order to be in the career that she's chosen. This story is taking place 150 or so years previous to my other writing; if her true gender had been known, it's unlikely that she could have become what she wanted to be- and trust me, she wants to be famous.

She'll end up teaming up with Adair on his quest, so he'll be one of the few who catches on to her real gender. Eventually, if she's away from the part of the world where she's working to establish herself, then I think she's going to spend time wearing something like this just for the novelty of being able to wear something else for a while: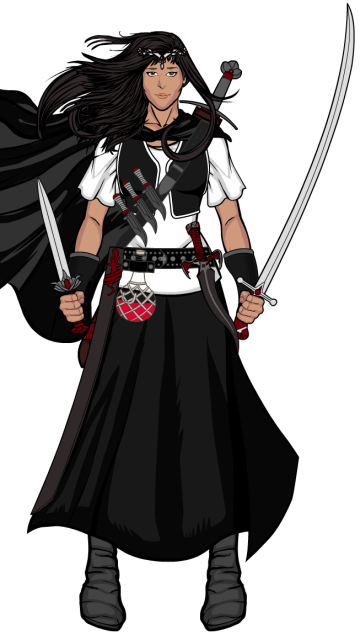 I'm thinking that in this garb, she'd pick clothes that flow dramatically with her movements, whereas in her "boy" garb it's more form-fitting to better show off her skill by not causing a distraction. (This has nothing to do with the gender being the deciding factor, just that she wants to try something new. She could just as easily have a flowing cloak or robe or something as a male.) I can definitely see her getting a kick out of proving to men she meets on the road that, yes, she very much knows how to use those blades she carries. Messing with Blythe is probably not a good idea. No matter what she's wearing, though, her arms will be free of sleeves that would tangle in her weapons. The potion bottle isn't actually full of a potion: that's enchanted dye/paint. Since it's from Adair, who knows if it'll actually work or not, though. ;)

I'm going to be spending the next two weeks trying to sort out some idea of plot and personalities for her and Adair (and figure out if they need a third to help them on their quest). I'm not usually drawn towards sword-wielders, but I love the idea of Blythe. I mean, getting to say "One of my characters really did run off to join the circus!" is something that probably won't happen again!

~Meri